Jonas Ellert
Contact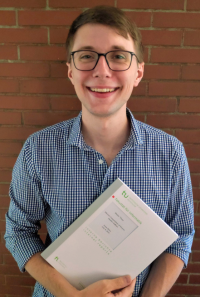 Projects
Teaching (in German)
Lehrveranstaltung
Publications
My Erdős number is at most 3 (via E. Rotenberg → C. Thomassen → P. Erdős).
My Dijkstra number is at most 4 (via D. Köppl → B. Möller → C. A. R. Hoare → E. W. Dijkstra).
Refereed Journals
Practical Wavelet Tree Construction
Patrick Dinklage, Jonas Ellert, Johannes Fischer, Florian Kurpicz, Marvin Löbel
ACM J. Exp. Algor. 26(1), Article No.: 1.8, pp 1–67
Refereed Conference Proceedings
Thesis Projects
Efficient Computation of Nearest Smaller Suffixes. PDF

Winner of the

2020 FTI-Award for the best master's thesis

in computer science.

Master's thesis; supervised by Johannes Fischer and Florian Kurpicz

Matchings in bipartiten Graphen im Semi-Streaming Modell. PDF

Bachelor's thesis; supervised by Nils Kriege and Petra Mutzel.