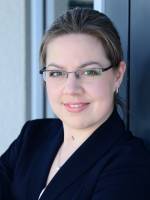 Christine Dahn
Ab dem 1. Oktober 2019 wechsel ich an die Uni Bonn. Meine neue Webseite finden sie hier.
Starting Oktober 1st 2019 I will be at the University Bonn. My new webpage is linked here.
Research Interests
graph algorithms

1-planar graphs

maximum cut on k-planar graphs

problems related to the crossing number

fixed-parameter tractability
My ORCID ID is 0000-0003-0609-176X
Lehre (Teaching)
Sprechstunde: nach Vereinbarung (nicht in KW 33, 35, 36, 38)
aktuelle Lehrveranstaltungen
betreute Abschlussarbeiten
Julian Schilling: Parameterized Max-Cut on 1-planar Graphs, Masterarbeit, 2019

Sven Brümmer: Ansätze für paralleles Max-Cut, Masterarbeit, 2019
Publications
Journal Articles
Refereed Conference Proceedings
Preprints
Theses
Christine Dahn, Entwicklung eines MAX-CUT-Algorithmus für fast-planare Graphen. Master Thesis, TU Dortmund (September 2017).

Christine Dahn, Graphdatenbanken: Das Containment-Problem für C2RPQs. Bachelor Thesis, TU Dortmund (Oktober 2013).
Conferences/Meetings/Workshops Attended
Lehre-Archiv (Teaching-History)
Workshops
Sommersemester 2014

Mathe-Power-Lerntage zu Mathematik für Informatik 2
Sommersemester 2012

Schnupperuni für Schülerinnen (Informatik)
Lehrveranstaltungen
Wintersemester 2013/14

Übung zu Rechnernetze und verteilte Systeme
Sommersemester 2013

Übung zu Mathematik für Informatik 2
Wintersemester 2012/13

Übung zu Mathematik für Informatik 1
Sommersemester 2012

Übung zu Mathematik für Informatik 2
Wintersemester 2011/12

Übung zu Mathematik für Informatik 1
Wintersemester 2010/11

Übung zu Analysis 1 (Mathematik)