Workshop Location
Dortmund is the biggest city of the
Ruhr district
, which is situated in the federal state of
North Rhine-Westphalia
. Further information on Dortmund is available
here
.
The workshop will take place at the
University of Dortmund
inside of the new building of the
department of Computer Science
:
Chair of Algorithm Engineering
Department of Computer Science
Dortmund University
Otto-Hahn-Str. 14
D-44227 Dortmund, Germany

How to reach us:
Dortmund has its own airport in Dortmund-Wickede. Another big international airport rather close to Dortmund is in Düsseldorf.
From Dortmund airport to the central station:
Take the shuttle bus SB47 from the airport to the central station (about 20 min.). Alternatively, take a taxicab (about 20 min.). See also the official site of Dortmund airport for other possible connections to the central station.
From Dortmund airport to the workshop location:
The first possibility is to get to the central station (see above) and then use the public transport to get to Dortmund University (see below). An alternative, is to use the H-Bahn, one of the symbols of Dortmund and he Dortmund University. You take the bus 440 to "Dortmund Eichlinghofen" and then the H-Bahn to "Campus Nord".
From Düsseldorf airport:
Take the urban railway S1, direction Dortmund, to the university of Dortmund (about 90 min.) There are also faster trains going from Düsseldorf Airport to the central station of Dortmund, e.g., Regional Express, IC or ICE
From Dortmund central station ("Hauptbahnhof") to the workshop location:
At Dortmund central station take the urban railway S1 to university station ("Dortmund Universität"). On order to reach the workshop location you either walk (ca. 10-15 Minutes) or take the bus number 468 (direction Dortmund Kirchlinde) to "Joseph-von-Frauenhofer-Str."
Above that you can get from the Dortmund city to the university by bus or tram: from the Dortmund main station you get to "Stadtgarten" station using the underground, e.g. "U41", from there to "An der Palmweide" using the underground route "U42" and from there finally to the bus station "Joseph-von-Frauenhofer-Str." using the bus number 468.

Further maps and also a campus plan can be found here
For individual time table information about the public transport in Ruhr area see the homepage of the Verkehrsverbund Rhein-Ruhr or the official site of the Deutsche Bahn.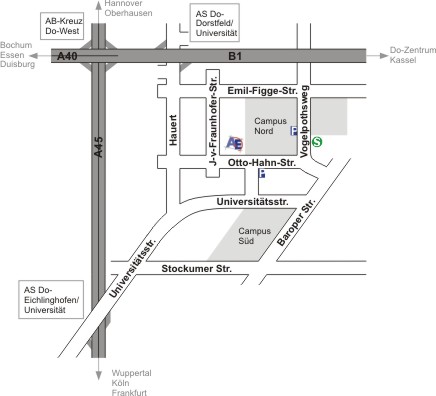 Download this map